COME AND share THE MAGIC WITH US AT THE magical, BEAUTIFUL and ultimate PARTY ISLAND IBIZA!
SUN, SEA, BEACH & FUN - POOL PARTIES - INTERNATIONAL ARTISTS & DJS - BOOTCAMP - QUALITY WORKSHOPS FOR ALL LEVELS - SOCIAL DANCING - NIGHT PARTIES
DAYS POOL PARTIES & SOCIAL DANCING NIGHT PARTIES
HOURS QUALITY WORKSHOPS TO CHOOSE FROM (ALL LEVELS)
GREAT TEAM OF EXPERIENCED BRAZILIAN ZOUK & LAMBADA ARTISTS/INSTRUCTORS & DJs
magical sunset PRIVATE party at club enigma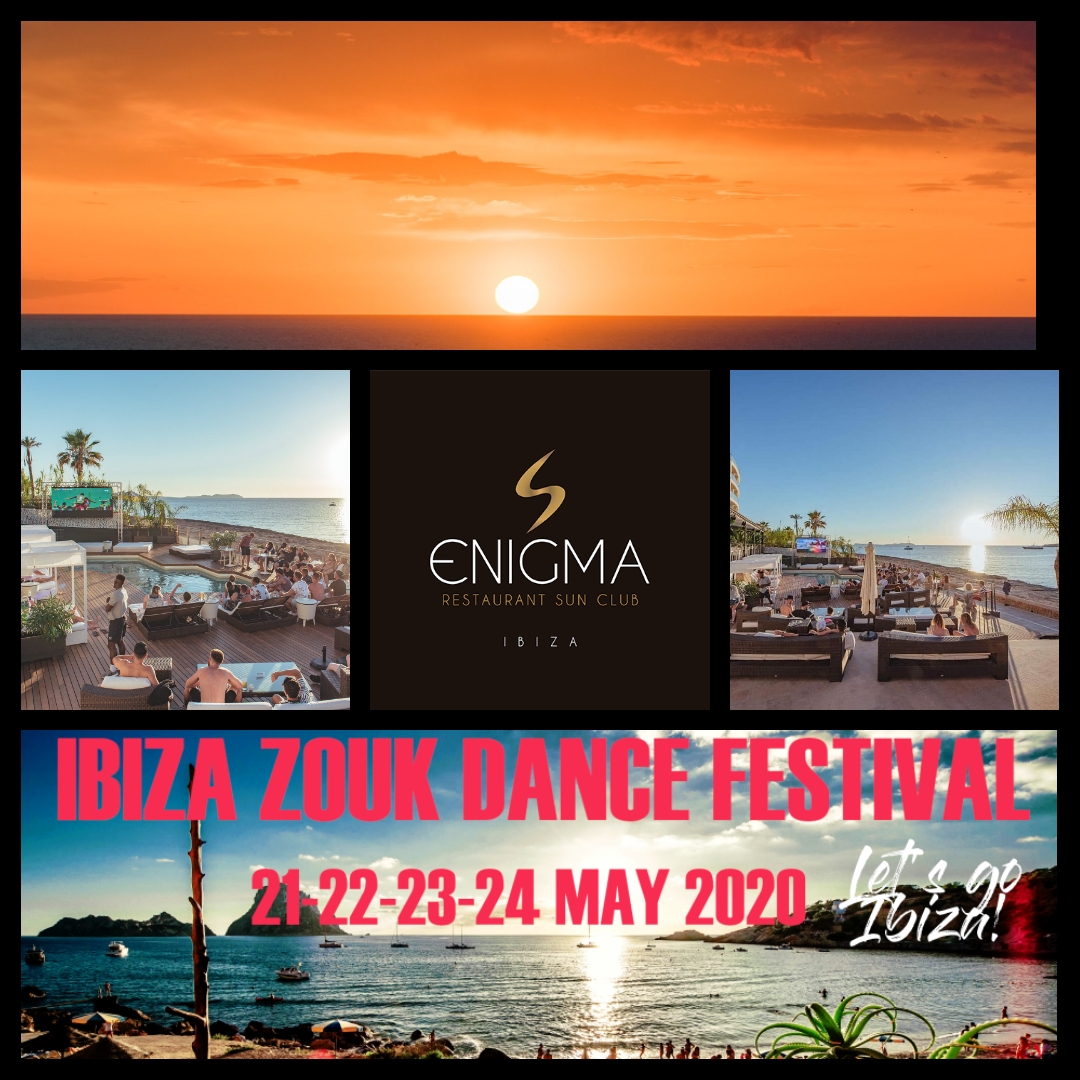 CLUB ENIGMA, CARRER DE JOAN BOSCA 53, 07820, ISLAS BALEARES, SPAIN
ON FRIDAY 22 MAY 2020 WE WILL START THE IBIZA ZOUK DANCE FESTIVAL WITH A MAGICAL SUNSET PARTY!

Watching the sun go down from Ibiza's famous Sunset Strip San Antonio is up there on the must-see list and it's a sight that has not been over sold. Sunset seen from San Antonio is stunning and there's not just one way to enjoy it!

Club Enigma is on the cusp of Cala des Moro, with fantastic scenic views and its own pool. This sunset bar/restaurant is a great place to relax both during the day and in the evening. Beautiful DJ booth, which overlooks the pool and the beach. Enigma keeps with what Ibiza is famous for...partying!

M&N PRO LIVE PERFORMANCE!
After their smashing and magical performance at the Ibiza Zouk Dance Festival 2019, the Barcelona Beach Festival 2019 and the Brazilian Dance Arts New Year Party in Amsterdam Assendelft we are excited to welcome M&N PRO at the IBIZA ZOUK DANCE FESTIVAL 2020.
M&N PRO is world famous for producing world class zoukable remixes!

TICKETPRICE €30*
*Free entrance for IBZDF2020 3 Day Full Pass Gold holders, Intensive Bootcamp Pass holders, 3 Day Party Pass holders and Friday 22 May Day Pass holders.
intensive bootcamp (optional)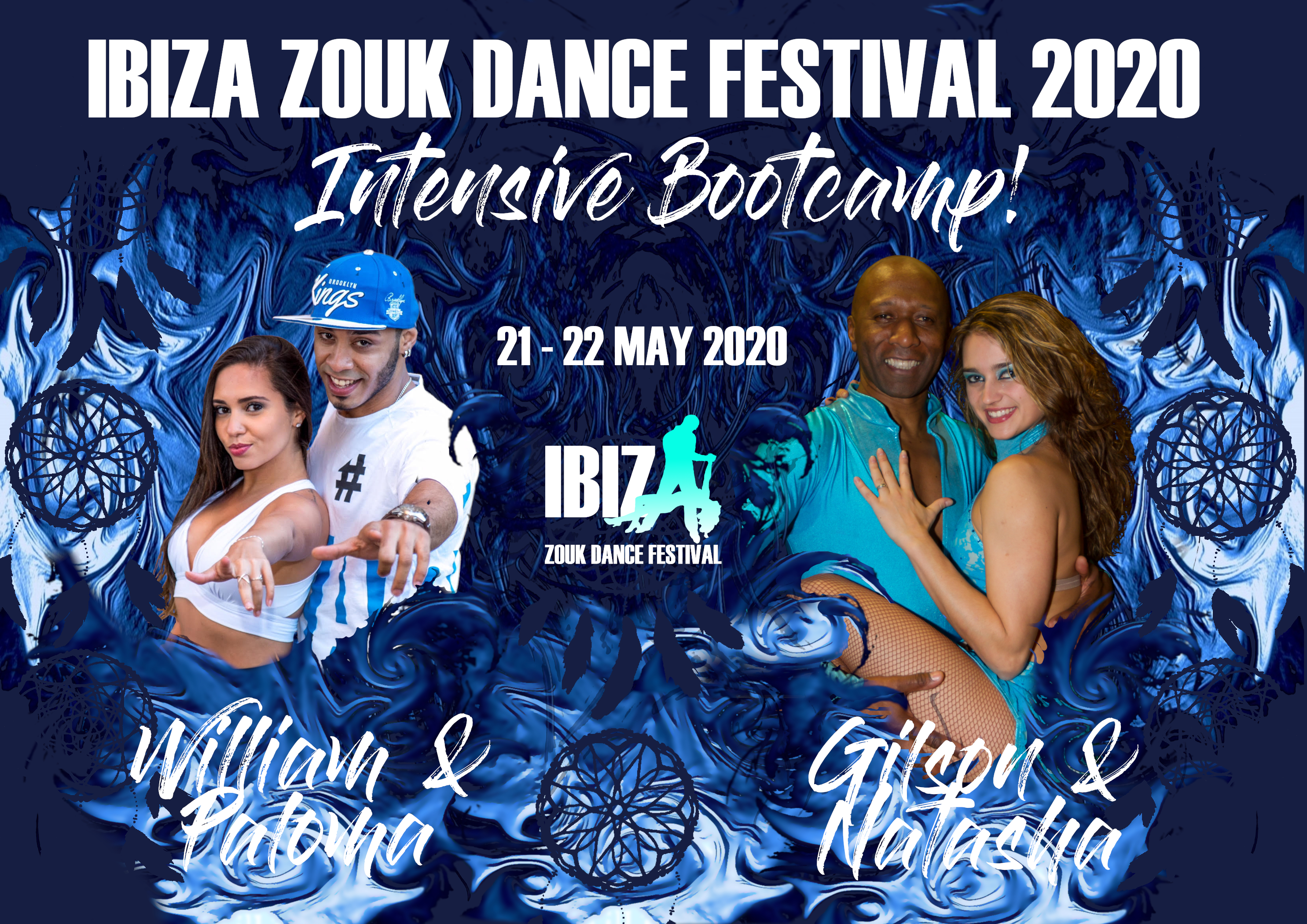 CLUB ENIGMA, CARRER DE JOAN BOSCA 53, 07820, ISLAS BALEARES, SPAIN
ESSENCE OF THIS BOOTCAMP
For many zouk dancers musicality, creativity and connection is quite the challenge they need to take their dance to the next level! Gilson Damasco, Natasha Terekhina, William Teixeira and Paloma Alves are going to deepdive with you to add layers, complexity and character to your dance and whip you into shape right before the start of the IBIZA ZOUK Dance Festival 2020 ! Understand the way, the how, the why, the style, the philosophy of these world class teachers and grow your self in the dance!

It will be an exclusive intensive 8 hour training camp in addition to the regular festival workshops. Learning more about "WHY do it" than "HOW to do it" through progressive and structured classes to increase your learning. By the end of the camp you will have a much greater understanding of the dance, as well as your body and mind.

THE TOPICS THAT WILL BE COVERED IN THE BOOTCAMP
☮️ Different ways of communication in partner dance
☮️ Change of dynamics for different rhythms ☀️☀️
☮️ Interpretation of various traditional dances☀️☀️
☮️ Connection points, embraces & frames☀️☀️☀️
☮️ Understanding your body for zouk ☀️☀️☀️☀️
☮️ Fluid body & movement☀️☀️☀️☀️☀️☀️☀️

EXCLUSIVITY
There is a limited group size. A limited amount of invitations will be available and we try to have a balance between the amount of followers and leaders. So don't wait too long to subscribe!

COMBI DISCOUNT
€ 60 discount on the regular IBIZA ZOUK Dance Festival 2020 - Official FULLPASS GOLD for holders of the IBIZA ZOUK DANCE Festival 2020 Intensive Bootcamp Pass. To claim your discount please send an email to INFO@IBIZAZOUKDANCEFESTIVAL.COM
After the registration and purchase check we will send you a personal voucher discount code.
Most of our activities will be hosted at our official partner hotel Playasol Marco Polo. 
This beautiful hotel has two buildings (Marco Polo I and Marco Polo II) and is situated at just 100 m from the main beach of San Antonio and 200 m from the centre, surrounded by restaurants, bars and other attractions!  
BOOK YOUR ROOM AT THE MAIN VENUE
HOTEL MARCO POLO I & II
hotelmarcopoloibiza.com/en
Prices starting from circa €60 PER NIGHT in October 2019 for a double room including breakfast! Take in consideration that prices will rise rapidly thereafter!
Hotel Playasol Marco Polo is situated at just 100 m from the main beach of San Antonio and 200 m from the centre, surrounded by restaurants, bars and other attractions!
A very short walk away, you will find the beach and the famous zone of sunset bars (Café del Mar, Mambo etc.), with its marvelous sea view. While in the top season the Hotel is very popular among young people, the rest of the season it is ideal for couples and groups of friends that want to enjoy Ibiza!
Hotel Marco Polo: Av. Portmany, 8, 07820 San Antonio Abad. Islas Baleares, Spain +34 971 30 19 59
For Direct Room Booking call +34 871 57 56 17 (office hours Monday – Friday)
There are tons of great places to stay in San Antonio at every price point!
The Marco Polo Hotel is situated opposite from the San Antonio Central Bus Station (Estacion Bus San Antonio).
San Antonio Central Bus Station: Calle Londres, 7, 07820 San Antonio Abad, Islas Baleares, Spain. +34 971 34 01 11
Hotel Marco Polo: Av. Portmany, 8, 07820 San Antonio Abad. Islas Baleares, Spain +34 971 30 19 59
Customer Service Room Reservations +34 871 57 56 17
It takes about three minutes walk to get from the Bus Station to the Marco Polo Hotel . The San Antonio Central Bus Station is your hub to get you anywhere on the Island!
Ibiza boasts an extensive and regular bus service. There are half-hour connections between all major resorts, including many of the most popular beaches.
When travelling from Ibiza airport to San Antonio there are different options of transport: Car, Taxi and Bus. Renting a car is the most convenient mode of transport. A taxi from Ibiza airport to San Antonio will cost around €45 and it will take approximately 25 minutes. An alternative less expensive option is the bus. The bus trip costs only €4 and the average travel time is 55 minutes.
The airport bus stop is situated directly outside the arrivals hall. All current routes and times can be found on the webpage of Ibizabus. Please note, that they use the Catalan names for the resorts (Ibiza = Eivissa). During the summer season you can travel straight from the airport to San Antonio with the bus L9. The L9 bus departs every 30 minutes from the airport and the average travel time is 45 minutes. The L9 bus stops at the San Antonio Bus Station opposite from the Marco Polo Hotel. Another option is to take the bus L10 towards Ibiza town and get off at the 9th stop, Can Sendón. From there, you have to board onto bus L8 which terminates its trip at the bus station of San Antonio, Estació d'Autobusos de Sant Antoni.
USEFUL LINKS FOR GETTING AROUND THE ISLAND
CLUB ESSIGI, CARRER DE CALA DE BOU,44, 07820, ISLAS BALEARES, SPAIN
The themed night parties of the Ibiza Zouk Dance Festival 2020 will be at Club ESSIGI. This high end club is exclusively reserved for our participants during the festival. HOW TO GET THERE
From Hotel Marco Polo you can take a nice scenic walk down the boulevard. This will take you about 15-20 minutes. Another option is to take a bus or taxi. The price of a taxi ranges between EUR 8 and EUR 12 and it will take you only 3 minutes from Hotel Marco Polo to Club ESSIGI.
SAN ANTONIO de portmany, Ibiza
In Ibiza nature, culture and fun galore await you by day and by night. Ibiza is a Spanish island in the Mediterranean Sea off the eastern coast of Spain. It is 150 kilometres from the city of Valencia. It is the third largest of the Balearic Islands, an autonomous community of Spain.
Its largest settlements are Ibiza Town, Santa Eulària des Riu, and Sant Antoni de Portmany. Its highest point, called Sa Talaiassa, is 475 metres above sea level. Ibiza is an island of delightful contrasts. Cosmopolitan and multicultural, yet firmly grounded in its rural roots. Bustling and relaxing. World famous and at the same time unknown. An exceptional corner of the Mediterranean, visited by many for the allure of its vibrant nightlife, the world's party island, but offering many other attractions.
San Antonio de Portmany is a lively resort set in a beautiful open bay, with legendary sunset cafés and clubs, a huge amount of water activities and a contagious buzzing atmosphere. Once a small fishing village for almost 2000 years, San Antonio (Sant Antoni in Catalan) is now a top holiday destination, loved for its relaxed and easy-going feeling. You can listen to the world's best DJs live, stop and take in a dazzling glowing sunset or enjoy the water in a huge variety of ways. It is set in one of the largest and most beautiful natural harbours in Europe, San Antonio Bay. Running through the main part of town and approaching the marina and port is the elegant central palm-tree-lined promenade filled with plants and flowers and large fountains that light up at night. You will find a big selection of pavement-side restaurants and cafés that lead right past the harbour. In the other direction, the promenade follows the line of the main beach of San Antonio, S'Arenal, a long strip of soft sand with safe, shallow waters. You can play about in the water with ease amongst a largely young crowd from dawn till dusk in the summer.
beautiful ibiza! MORE TO EXPLORE...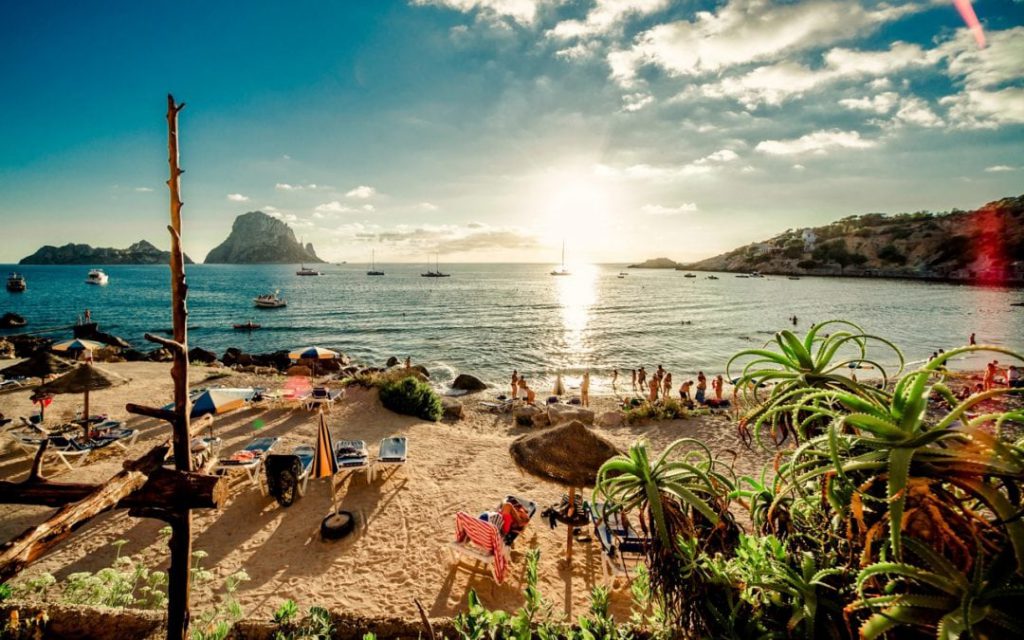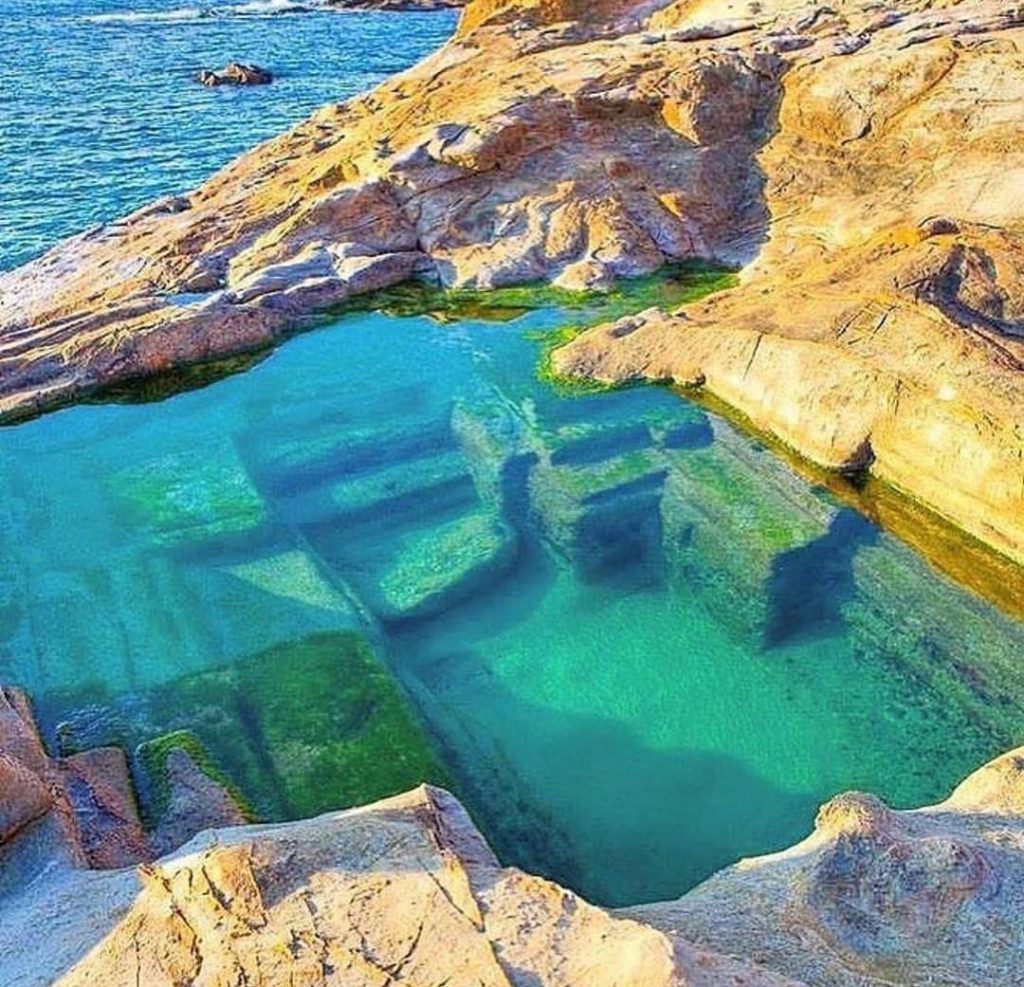 *PRICES BOOKED AND PAYED UNTIL 1 JANUARY 2020 
**TICKET PRICES GO UP AS WE GET CLOSER TO THE EVENT
IBZDF2020 3 DAYS FULL PASS GOLD
IBZDF2020
INTENSIVE BOOTCAMP PASS
pRE-PARTY pass 21 MAY 2020
(NO BOOTCAMP)


mAGICAL SUNSET PARTY PASS
22 may 2020
(NO bOOTCAMP)
(NO THEMED NIGHT PARTY)

day paSS 22 MAY 2020
MAGICAL SUNSET & THEMED NIGHT PARTY
(NO BOOTCAMP)

DAY PASS 23 OR 24 MAY 2020
ALL PARTIES & WORKSHOP



3 day party PASS
ALL PARTIES
(NO WORKSHOPS)
22 MAY, 23 MAY & 24 MAY 2020

ONE THEMED NIGHT PARTY
22 MAY, 23 MAY OR 24 MAY 2020



HOUSE RULES & POLICY IBIZA ZOUK DANCE FESTIVAL
Keep in Touch! Contact team ibiza zouk dance festival!